---
Executive Chef
David Stickney

David Stickney grew up in Burlington, CT, spending a lot of his early years fishing and hunting. It turns out that was his initial connection with food. "When I was a kid", he says, "I used to try to get out of weekend chores outside so that I could watch Jacques Pepin and the rest of the Saturday cooking shows with my mother. Even as a child I saw his fluidity, gracefulness and economy of movement around a kitchen and the work it took to make any given dish and it was absolutely fascinating to me."
(
more
)
---
Partner
Mark Conley

A native of West Hartford, CT, Mark spent 14 years in Manhattan honing his restaurant and hospitality skills. While in Manhattan, Mark had tremendous opportunities to work with some of the best people in the business. Among them were Michael Weinstein of Ark Restaurants, who currently owns Lutece, and the late great Artie Cutler who owned Docks Oyster Bar and Seafood Grill, Carmine's, Virgil's and Ollie's.
(
more
)
---
Careers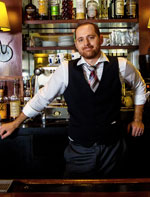 The Max Restaurant Group is always looking to expand our team. We offer competitive wages, a generous benefits package, flexible hours and the opportunity to grow with the company. Join the most respected restaurant group in Southern New England and you will have the opportunity to experience and learn the hospitality industry from visionary Chefs and seasoned Restaurant Managers. The Max Restaurant Group is an equal opportunity employer.
Please e-mail your resume and cover letter to us at jobs@maxrestaurantgroup.com.