---
Partner
Mark Conley
A native of West Hartford, CT, Mark spent 14 years in Manhattan honing his restaurant and hospitality skills. While in Manhattan, Mark had tremendous opportunities to work with some of the best people in the business. Among them were Michael Weinstein of Ark Restaurants, who currently owns Lutece, and the late great Artie Cutler who owned Docks Oyster Bar and Seafood Grill, Carmine's, Virgil's and Ollie's.
Mark worked for Ark Restaurants for four and a half years before moving on to managing "Docks" for five years. Working with Howie Levine and Barry Corwin, Mark learned the meaning of true hands-on ownership. Partnering with the "Docks" owners, he opened a new concept, Jake's Fish Market. Mark brought his front of the house people skills to a retail and gourmet foods store featuring fresh fish, home replacement meals and catering. In the first year of business, "Jake's" opened 1400 house accounts and was voted "Best Fish Market in New York" by New York Magazine.
After three successful years, Mark sold his interest in "Jake's" in order to partner with Richard Rosenthal in Max Amore. Max Amore opened in April of 1995 to a 4-star review. "It is a real dream come true."., Conley said at the time. Mark is also very proud to be a managing partner at Max Fish in Glastonbury and at other Max restaurants.
BACK
Careers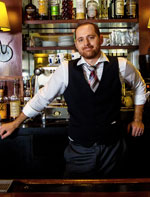 The Max Restaurant Group is always looking to expand our team. We offer competitive wages, a generous benefits package, flexible hours and the opportunity to grow with the company. Join the most respected restaurant group in Southern New England and you will have the opportunity to experience and learn the hospitality industry from visionary Chefs and seasoned Restaurant Managers. The Max Restaurant Group is an equal opportunity employer.
Please e-mail your resume and cover letter to us at jobs@maxrestaurantgroup.com.