---
General Manager
Bob Kohnstam
After graduating from the University of Houston's Hilton School of Hotel & Restaurant Management in 1976, Bob began his career in the restaurant business with the national chain Victoria Station. While with Victoria Station, Bob worked in Houston, Dallas, Austin, and New Orleans as Manager, Special Assistant to the Regional Manager and General Manager before leaving in 1983 to relocate in Connecticut. Since coming to Connecticut, Bob has worked in various restaurants including 20 years with The Saybrook Fish House as General Manager. Bob joined the Max Group in February of 2009 as General Manager at Max Amore.
BACK
Careers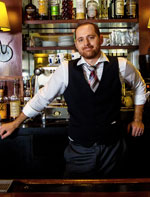 The Max Restaurant Group is always looking to expand our team. We offer competitive wages, a generous benefits package, flexible hours and the opportunity to grow with the company. Join the most respected restaurant group in Southern New England and you will have the opportunity to experience and learn the hospitality industry from visionary Chefs and seasoned Restaurant Managers. The Max Restaurant Group is an equal opportunity employer.
Please e-mail your resume and cover letter to us at jobs@maxrestaurantgroup.com.